Presto 3510 FlipSide Belgian Waffle Maker
The Presto 3510 FlipSide Belgian Waffle Maker is a very easy-to-use breakfast maker.
Just perfect for someone who loves their fluffy breakfast treats, the Presto 3510 FlipSide Belgian Waffle Maker makes deliciously thick waffles that are crisp on the outside and very light and fluffy inside.
Professional-style swivel design with extra thick rack bakes a 7-inch diameter Belgian waffle with four easy-to-cut sections
Dual function base ensures convenient rotation for baking and locks in a space-saving upright position for storage
Countdown timer with digital display signals when time is complete Brushed stainless steel exterior;
The non-stick interior is easy to clean. Care and cleaning: hand wash; 120 volts AC, 1100 watts
Flip 180 degrees to evenly spread batter to make waffles that are crisp on the outside and tender on the inside. See page 2 of the user manual below for timer instructions and troubleshooting steps.
So what are the features of the Presto waffle cooker?
The Presto 3510 FlipSide Belgian Waffle Maker has a 180-degree rotating flip design that helps to ensure that your waffle batter evenly coats the upper and lower plates of the waffle maker.
Just pour batter into the round waffle plates, lower the lid, and you're good to go. You don't have to worry about the waffle cooking unevenly… just set it up and let it cook.
The Presto FlipSide Belgian Waffle Maker will give you delicious, gourmet waffles seven inches wide that you can easily cut up into four sections.
Waffles that come out of the Presto 3510 FlipSide Belgian Waffle Baker also have pockets that are extra deep so you can fill them up with more maple syrup, fresh fruit, or whipped cream.
This is really cool because you can put more syrup or fill on your waffle!
This Presto waffle cooker also has a digital display and countdown timer to let you know when the baking process is done.
A non-stick cooking surface so you don't have to worry about your waffles sticking and for easy clean-ups; and a dual-function base that locks up into a vertical position for compact storage.
The Presto 3510 FlipSide Belgian Waffle Baker features a brushed stainless steel body with 12 x 12 x 3 inches in dimension and comes with a one-year limited warranty.
It fits nicely on your counter and isn't as big and clunky as some other waffle bakers. It really fits well in a smaller kitchen… like an apartment or condo.
The verdict…
The Presto 3510 FlipSide Waffle Maker makes quick work of waffle recipes so you can get around to eating those gourmet waffles as soon as possible.
Just how quick? A basic waffle recipe only takes about 3.5 minutes to cook up.
Since the Presto 3510 FlipSide Belgian Waffle Maker also locks and folds up into an upright position, it is a great space-saver ideal for small kitchens.
I personally leave it out because it looks great and stylish. It also doesn't hurt that this Presto waffle baker costs only half of the price of other waffle cookers in the market.
Presto 3510 FlipSide Belgian Waffle Maker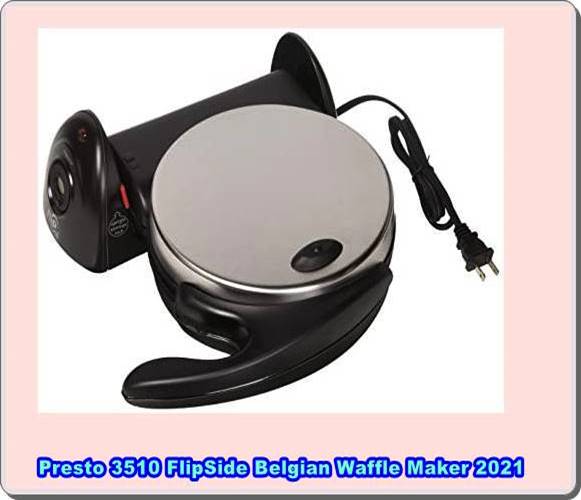 There is nothing more than trying numb waffles. Today, the waffle has become the favorite food of every household.
The device mainly consists of two non-stick iron plates, with different markings with different patterns. This special machine is heated and a baking dough is poured.
Choosing the best waffle maker for your kitchen is a somewhat deliberate process, as you need to consider what type of grill you are looking at and fully understand device maintenance.
You can find many varieties to choose from among manufacturers. Depending on your requirement, it can have related domestic or commercial uses, in square or round shape, large or small size, in terms of baking properties, etc.
Also, it can be obtained with countless features that can help you make delicious crispy and golden waffles to your liking.
All types of waffles are developed with a stainless steel body and amazing features like audible alarms, LED indicators, temperature control settings, drip trays, non-stick plates, and more.
Conclusion:
One important thing to keep in mind is the correct operation of the machine. Therefore, it is important that you read the entire instruction manual.
Presto 3510 FlipSide Belgian Waffle Maker will help you make light, crisp, and flavorful waffles that are well cooked and not scorched or undercooked.
The basic ingredients used to make warm waffles are milk, eggs, salt, oil, sugar, and flour.
However, the best thing is that you can read shop windows or product reviews on the net before buying the best waffle maker.
You can also collect feedback from friends and family using Presto 3510 FlipSide Belgian Waffle Maker or something.
Last but not least, is buying a Presto 3510 FlipSide Belgian Waffle Maker that can meet your needs and is affordable according to your spending budget.
How to use:
Note: Do not use any oil on this Presto 3510 FlipSide Belgian Waffle Maker iron. Do not add oil of any kind to the batter. This will maintain the non-stick qualities.
I have used many brands of waffle iron in my life. I'm 35. This simplistic waffle iron produces evenly cooked waffles that easily release from the griddle, store in minimal space, and are lightweight.
I have a waffle recipe that I have improved upon over the years and provide it here for the well-being of all Amazon customers. Enjoy!
The Malted Waffles
3 eggs
2 tablespoons vanilla extract
2 cups of milk
1/4 teaspoon salt
1 spoon of sugar
2 tablespoons non-diastatic malt powder (King Arthur brand via Amazon)
1/2 cup cornmeal (Bob's Red Mill brand via Amazon)
3 cups buttermilk (recommend Organic Valley brand)
4 cups all-purpose white flour
1 teaspoon of baking soda
3 teaspoons of baking powder
In a medium bowl, add the eggs, extract, milk, salt, sugar, powdered malt and cornmeal. Mix these very well.
Next, add buttermilk and white flour. Mix well.
If necessary, add flour or milk for a light to medium-thick dough. Too thin a dough WILL CAUSE it to stick.
Finally, add the baking soda and baking powder. Mix well for about 15 seconds.
Now pour in that preheated waffle iron and let it cook for 3 minutes. Makes 8-10 waffles.
For PANCAKES, use an additional 1/2 cup of milk.
Share this recipe. If you'd like.
Few popular models are:
Presto 3510 FlipSide Belgian Waffles Maker,
Black & Decker G48TD Grill,
Cuisinart WMR-CA Round Classic,
Waring WMK300A Pro Professional Stainless-Steel Belgian Waffles Maker,
Proctor-Silex 26500 Morning Baker Belgian Baker,
Black, Chef's Choice M840 WafflePro Express Maker,
Traditional Five of Hearts,
KitchenAid Pro Line Series Baker,
Calphalon HE400WM No Peek Belgian Maker,
Smart Planet WM-3 Circus Shape Makers,
Presto 3510 FlipSide Belgian Waffle Maker