Executive Desks Traditional & Modern Office Desks 2021
Executive desks belong to the echelons of achievers. Their utility spans upper and middle management levels, which aptly gives them their name. Reflecting the preferences of their masters, the designs of these high-end desks vary from ornate and vintage to tech-savvy post-modern.
If you are ready to move to the higher echelons, we are ready to help you make the move. Read this guide to acquaint with the information that will help you choose THE executive desk for you.
What Are the Core Features of Executive Desks?
A large and sturdy piece of furniture, an executive desk is deeper and wider than its brethren. It has a spacious surface that accommodates all your desktop activities, and also sits a few personal items, a lighting fixture or two, and table-top decorative pieces.
Typically, these tables have two pedestal supports on the sides that run to their base. They are usually fully covered from the visitor-end and have vertical rows of drawers on the owner's side. A footrest is a must since you would be sitting at it for long hours. There may be many variations, but these are the core features that define executive desks.
Which Type of Executive Desk Is Best For You?
The array of designs and styles available today could be confusing. You could end up selecting the wrong type of executive desk if you get carried away by the grandiose of some or the looks and charm of others.
It will be astute to go by your personal preference and personality type, your nature of work, and also the type of visitors and guests you will receive. It's no point choosing a vintage desk if you are under-30 and leading a tech team, right? So, here goes. Choose the type that is closest to yourself and your needs.
Ornate
These executive desks are for the accomplished and distinguished whose furniture reflect their stature. State functionaries, royalties, presidents, CEOs, corporate honchos… if you are part of this elite league and would like to be subtle yet emphatic about your authority, ornate executive desks will do the job for you.
More decorative than functional, these solid-looking, heavy desks are meant for photo opportunities rather than working for long hours. They often have elaborate carvings, inlay work, sophisticated motifs, and fancy accessories such as carved handles or knobs to go with the main body.
Material? Expensive wood such as mahogany or Ebony, priced between $10 and $35 per square foot. If this is not your style, then jump to the more democratic options!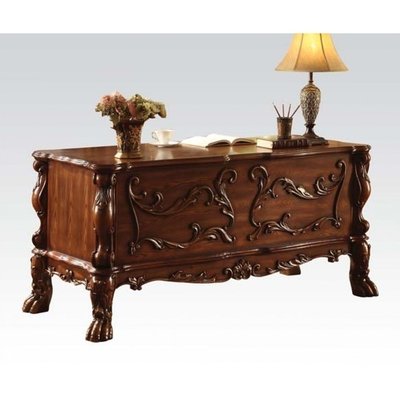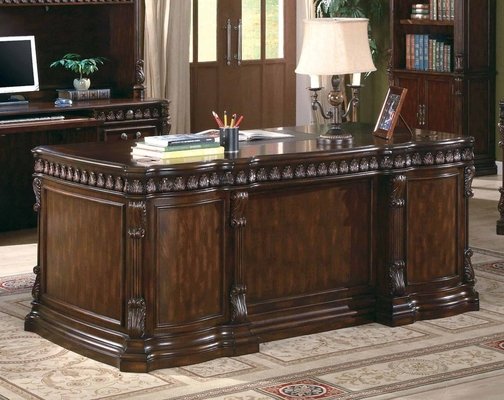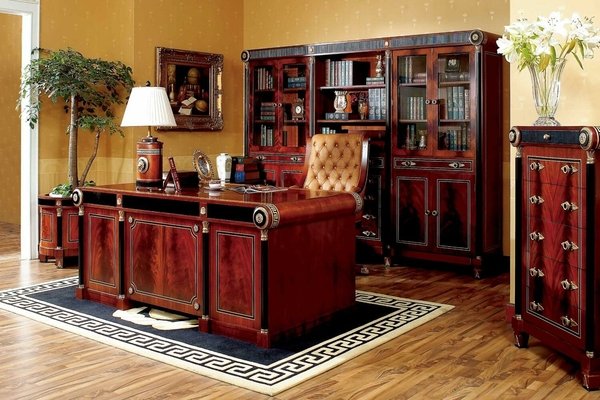 Molded
These are functionally fit, mid-range pieces of executive desks belonging to the democratic options mentioned above.
These office desks could be of molded plastic or veneer. The manufacturing process is similar for both materials, wherein molten plastic or veneer is poured in the mold and then extruded from it when it has settled and formed. Thus, you get a "pre-fabricated" desk as per the form, design, and shape of the mold.
Although the price of these desks is affordable, they are in no way lesser beauties. You can come across any number of attractive designs with intricate patterns in the molded executive desks range.
Functionally too, they are the equals of other types. And what about their strength and durability? To give you a clue, surfboards are made with the same molding technology and from the same plastics. Need we say more?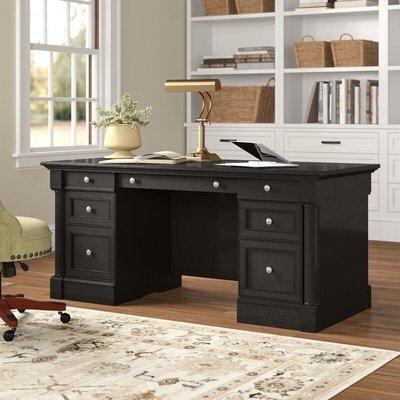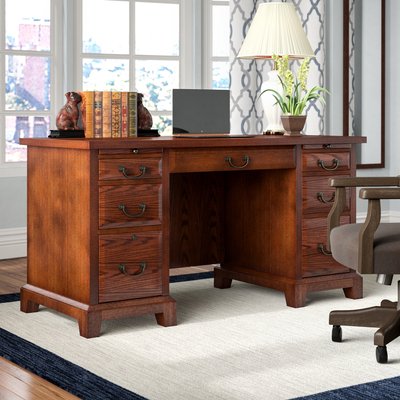 Modern Angular
Angles are back with a bang. In their contemporary avatar, they find favor with a wide range of furniture, executive desks included. They have an unconventional look-and-feel, with angular legs, drawers, shelves, pedestals, and other surfaces either projecting, recessing, or deflecting from the desk's primary profile.
Along with angularity, irregularity of surfaces and profiles are also a characteristic of these desks. You may encounter a design not having a flat top but having two or multiple surfaces, or it would not be a rectangular top but oddly shaped. The same may be true for the visitor-end covering. The drawers too may open to reveal the angled body, or the legs may rest at an angle.
They are made for you if you are a creative professional, a literary figure, journalist, a travel blogger, or some other parallel profession. Whatever your work be, make sure that modern angular executive desks don't compromise on functionality and stability in their zeal to be "different."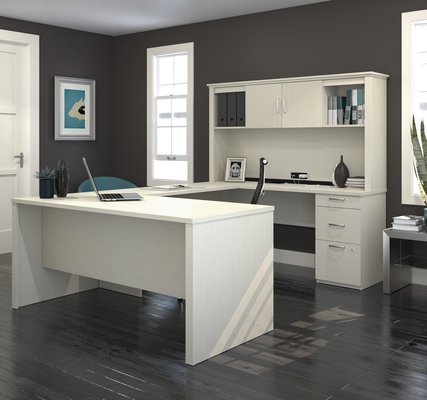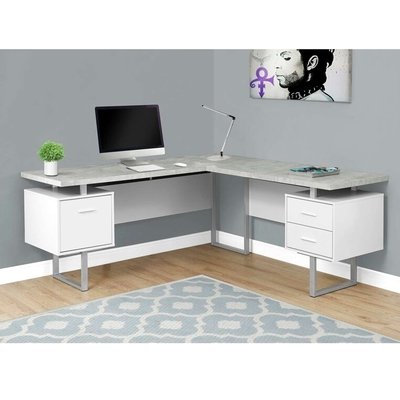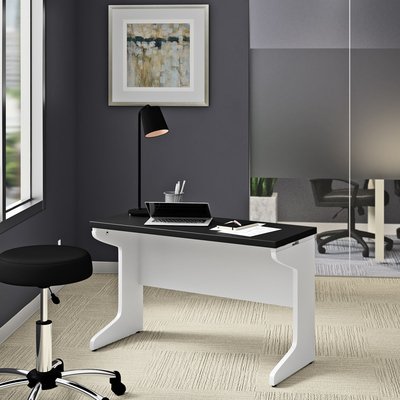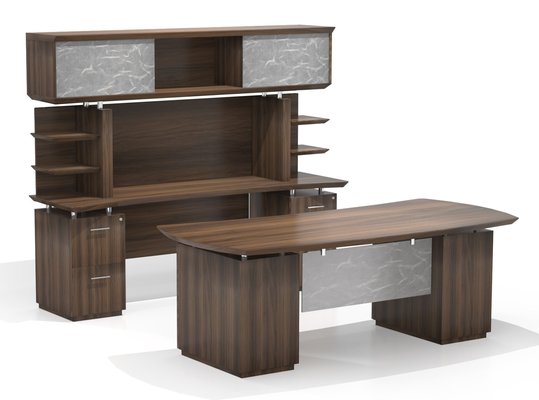 Corner Desks
Contemporary in styling, corner executive desks are often part of tech offices. They have a triangular work surface running across the lengths of the two intersecting walls. Note that nothing is rectangular about these desks, not even the drawers. They are made with the considerations of smart space utilization and optical comfort while spending prolonged time in front of computer screens.
You can categorize corner desks as computer-based workstations. Hence, they are worth considering if you belong to tech or IT professions. Sitting at a corner desk, you would be facing the walls and be secluded from the other high-density areas of the office. This may help you to concentrate better, with lesser distractions from the surroundings.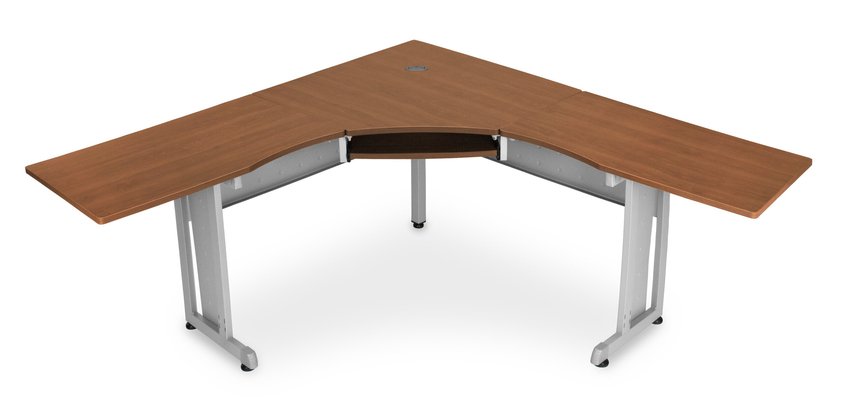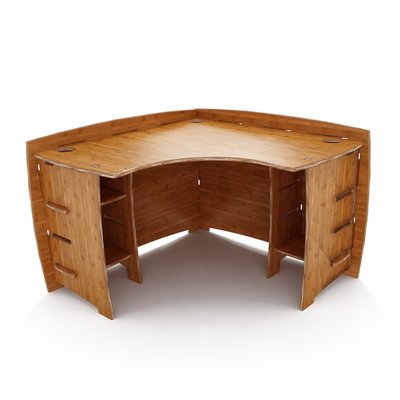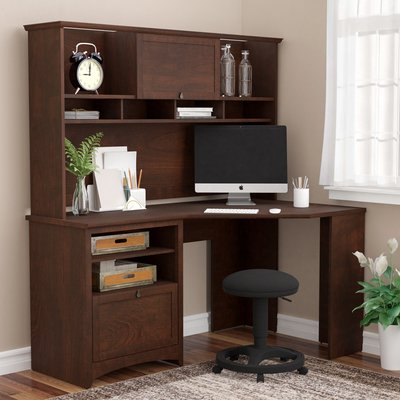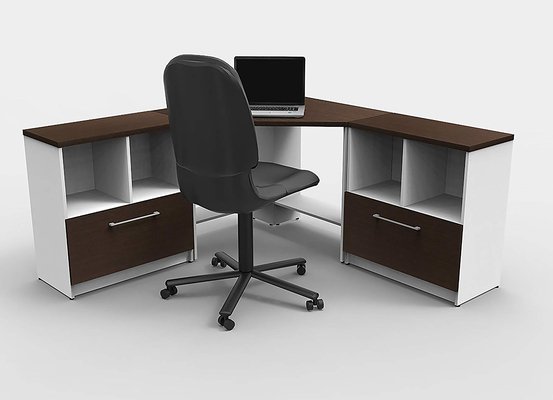 L-shaped
This is a variant of the corner desk; only, they form an L shape and not a triangle for the working surface. You essentially need the intersection of two walls to work from an L-shaped table. So yes, it offers the above-mentioned advantages of better concentration and focus on work. Among added benefits, you could better distribute the working and storage surfaces since you have a longer top. Also, you could have a good spread of personal and décor items on these desks.
L-shaped executive desks offer wider usage than corner tables – you can be an architect or a software engineer, and still work efficiently from these desks.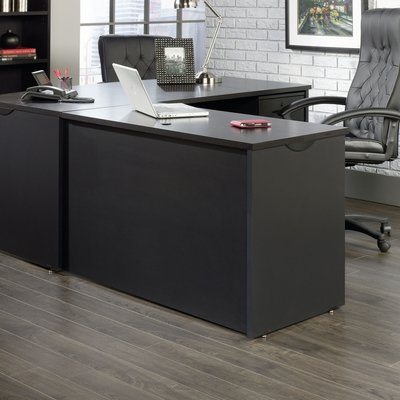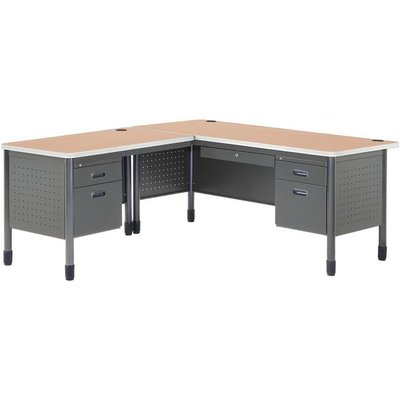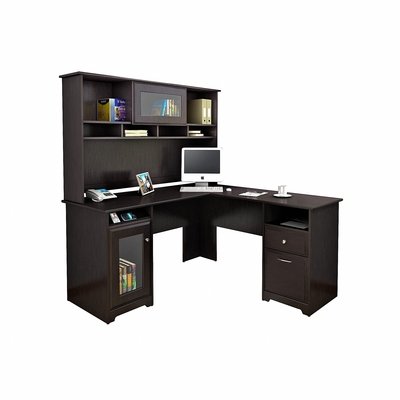 What Goes Into the Making of Good Executive Desks?
These are some primary elements you should be looking out for:
Functional design. Who doesn't like decorative value, elegance, and style in executive desks? However, you would be wiser to put functionality on par with these elements. The check-points are comfort, convenient width and length of the working surface, conveniently positioned footrests, adequate storage, ease of operating drawers, stability, durability, excellent workmanship, and above all, your sense of belonging with the pieces you are considering for purchase.
Aesthetics. The finish you choose, the texture of wood, color combination, and the overall shape – these and such visual elements will make sitting at your desk a pleasure. Choose a desk that you would want to return to day after day.
"Your type." It's going to be your executive desk, so obviously it should harmonize with the type of person you are, your working style, and your ethos. Even when you are not at the desk, people should be able to form a mental image of yourself, going by your executive desk.
Part of the entire work ecosystem. Executive desks are after all part and not a whole by themselves. While choosing your desk, make it a good fit with your cabin or office, and its overall visual outlook.
What Should You Keep In Mind While Selecting Your Executive Desk?
These three concluding points that will help you make the right final choice.
Relative height. Your executive desk is not a standing desk. It is critically important that the height of your desk be proportionate to your chair and visitors' chairs as well. Scientifically, ergonomically, visually, and psychologically, this point is important to feel comfortable working from your desk. A disparate desk-chair height leads to various physical anomalies, so use an online calculator to determine the right desk-chair height.
Desk and chairs. Be mindful that the chairs — yours as well as those for the visitors form a harmonious whole with the desk. They should not make an odd set of furniture.
Personalization. Amidst files, memos, sticky notes, and phone calls, make room for personalization on your executive desk. Let the family photo frame sit pretty in the left corner. And your adorable daughter's selfie can go in the right corner. Point is, executive desks should give you ideal opportunities to strike a work-life balance.
Return on investment. Executive desks are capital investments that are supposed to return good outcomes in terms of lasting productivity and performance. The amount that you invest in your desk should achieve just that.
Now that you are ready to make the purchase, make it a win-win deal! Hope this article helped.
What Are the Top-Rated Executive Desks?
When faced with different sizes, configurations, materials, and sizes of executive office desks, it is sometimes hard to know where to start looking. It can be helpful to check out the star ratings and reviews of users who have gone before you.
Price Ranges for Executive Desks
Not all executive desks come at executive prices. Budget-friendly options include an impressive selection of features and materials. Choices at the upper end let executives spread out in a number of comfortable arrangements.
Executive Desks for Different Spaces
Executive office desks can fit different space requirements, including large office spaces, home offices, and even cubicles. Locking storage, attached hutches, and file drawers are among the feature choices.
Browse the Selection Based on Your Requirements
For your executive office desk, you have a choice of brands, sizes, finishes, styles, configurations, and workspace types. Browse our complete list of executive desks for sale below and or learn more about what desk is best for you in our buying guide.
Bestar Connexion U-shaped Workstation Desk Kit. Free Shipping. $339.99. 55 Inch L-Shaped Executive Desk with Storage Drawer Cabinet – Walnut. Free Shipping." executive desk" Skip to main search results. Home Office Desks. Office Furniture & Lighting. Office Chairs. Home Office Desk Chairs. Office Depot & OfficeMax's assortment of executive desks combines durability, luxury, and professionalism. Delivery of sale-priced executive desks is free.
Searches related to executive desk
modern executive desk
l-shaped executive desk
executive desk for home office
small executive desk
executive desk set
unique executive desks
executive desk white
used executive desk
9 Best Fireplace Screens – Single Panel & Multi Panel 2021
Modern Poufs and Floor Pouf Seating Poufs, Living Room Furniture 2021
Modern & Contemporary Bedroom Sets Furniture 2021
Hall Trees Entryway Furniture Entryway Storage Benches, Hayneedle 2021
better homes and gardens computer desk
Tresanti adjustable height desk 2021